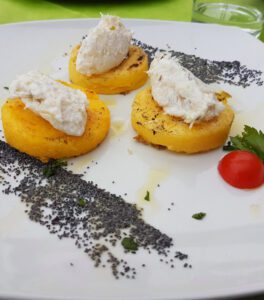 Advising about where to eat in Venice has never been an easy task, because of the great variety of restaurants and because of everyone's different tastes. In this article, we have tried to collect 5 places (not just restaurants) where you can get an excellent meal in Venice in the Cannaregio area, a few steps from our hotel. 
Osteria Al Cicheto
Just a 6-minute walk from our hotel, in the direction of the Santa Lucia railway station, in a somewhat hidden calle named Calle della Misericordia, you will find this small bacaro where you can have both lunch and dinner. 
At the counter, there are various 'cicchetti' and classic fried appetisers, perfect for an aperitif accompanied by a glass of white or red wine. 
For dinner or lunch, on the other hand, you can enjoy traditional Venetian dishes. 
The advice we give you is to book at least a couple of days in advance because the restaurant has very few tables. Do not hesitate to ask us for help, we will be happy to reserve a table for you. 
Osteria Ca' d'Oro alla Vedova
A historic restaurant a few steps from the Ca' D'Oro palace, famous for its meatballs and meat and vegetable pies. There is no shortage here of traditional dishes such as baccalà mantecato and sarde in saor, which taste even better when served with excellent polenta. 
Shall we talk about the first courses? In addition to the pasticcio, try the 'bigoli in salsa', you will fall in love!
Gam Gam Kosher Restaurant
Within the Jewish Ghetto area, one of the must-sees during your trip here, there are a few restaurants where you can sample Jewish cuisine, our favourite being Gam Gam, which has been open for more than 15 years now.
Here you can sample kosher cuisine and, while sitting outside, you can enjoy the view of the Ponte delle Guglie.
Trattoria Povoledo
Another restaurant to eat at in Venice is the Trattoria Povoledo, belonging to a Venetian family that opened it in 1950. The particularity of this restaurant, apart from the traditional Venetian dishes revisited in a modern key, is the terrace on the Grand Canal, from which you can enjoy a spectacular view of the most beautiful street in the world. You will feel as if you are embraced by the lagoon.
Bar Olimpia
Just seconds away from the train station, perfect for a quick but gourmet snack or lunch as soon as you arrive in Venice or just before you leave for home, is Bar Olimpia. This bar has been open since 1936 and has recently been completely renovated, especially in the kitchen, with a series of gourmet sandwiches on its menu that are all worth trying.
These are some of the places to eat in Venice that we recommend you try, but if you are looking for something special, even outside the Cannaregio area, ask us for advice at reception: we will be happy to help you find the perfect restaurant for your evening!