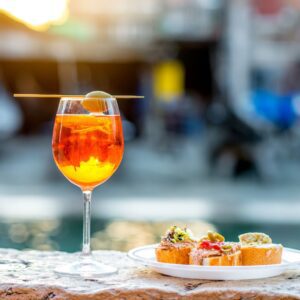 Coming to Venice and not making a trip to Bacari is almost like going to Rome and not tasting pasta carbonara: it is a must. 
But what are Venice's bacari? They are the city's typical small bars, modestly sized osterias, often consisting only of the counter and without tables, where you can sample a variety of appetisers, called 'cicchetti', accompanied by a good glass of wine or a spritz. 
Bacari are frequented by Venetians, especially as a break after work, to hang out with friends before going home, and by university students. Bacari are scattered all over Venice and over the years some very special ones have sprung up, which not only embrace tradition but also turn their gaze to the future through the creation of imaginative and very original cicchetti, even in vegan and gluten-free versions.
Read also: Where to eat in Venice
Bacaro: Origin and History
But let's take a step back and discover the origin and history of these small osterias. Let's start with the name, 'bacaro', a term that seems to derive from Bacchus, the god of wine, although we find more reliable the version that attributes the origin of the name to the Venetian verb 'far bàcara', which means to make merry, to celebrate.
Some say that the name 'bacaro' is due to a somewhat tipsy gondolier, who, tasting a wine that had arrived from Apulia, specifically a 'malvasia' that was very common at the end of the 19th century, exclaimed 'Bon! Bon! Xe proprio un vin da bacàro', referring to the verb 'far bàcara' – to celebrate. 
Venetian cicchetti, from the most traditional to the most modern
To make a list of the cicchetti you might find in the various bacari in Venice would be practically impossible, given their enormous variety and unstoppable evolution, but we can suggest the ones you absolutely must try because they are part of the tradition of our city. 
We usually advise our guests to go to Fondamenta della Misericordia, not too far from our hotel, where there are many different types of bacari: both older ones such as Paradiso Perduto or Timon and more modern ones such as Vino Vero. 
Here we recommend you try a crostino with baccalà mantecato, a small plate of sarde in saor, the half-egg with anchovy, then let yourself be inspired by the cicchetti displayed on the counters: there is something for everyone!
Before concluding, one last tip: close to our hotel, just a minute's walk away is an exceptional bacaro, where we staff also often stop at the end of our shifts: Luca and Fred's Venetian Cicchetteria. 
Here you find cicchetti that you won't find anywhere else in Venice: the flying saucers. Try them and then stop by reception to tell us about your experience, we will be happy to hear what you think of the famous Venetian cicchetti!